On-chain data shows the Bitcoin supply older than 1 year hasn't moved much recently despite the uncertainty due to the war.
Bitcoin Hodlers Stay Strong As They Refuse To Move Their Supply
According to the latest weekly report from Glassnode, the BTC supply older than a year hasn't shown much movement recently, suggesting that conviction remains strong among hodlers.
The relevant on-chain indicator here is the "revived supply last active 1+ years," which monitors the movement in Bitcoin belonging to long-term holders.
A big spike in the indicator means a large amount of long-term holders have just moved their dormant supply. Such a trend is usually bearish for the price of the crypto as it's usually a sign of dumping.
Related Reading | Diamond Hands: Bitcoin Miners Continue To Hodl Amid Recent Uncertainty
Below is a chart showing the trend in this BTC indicator over the past year.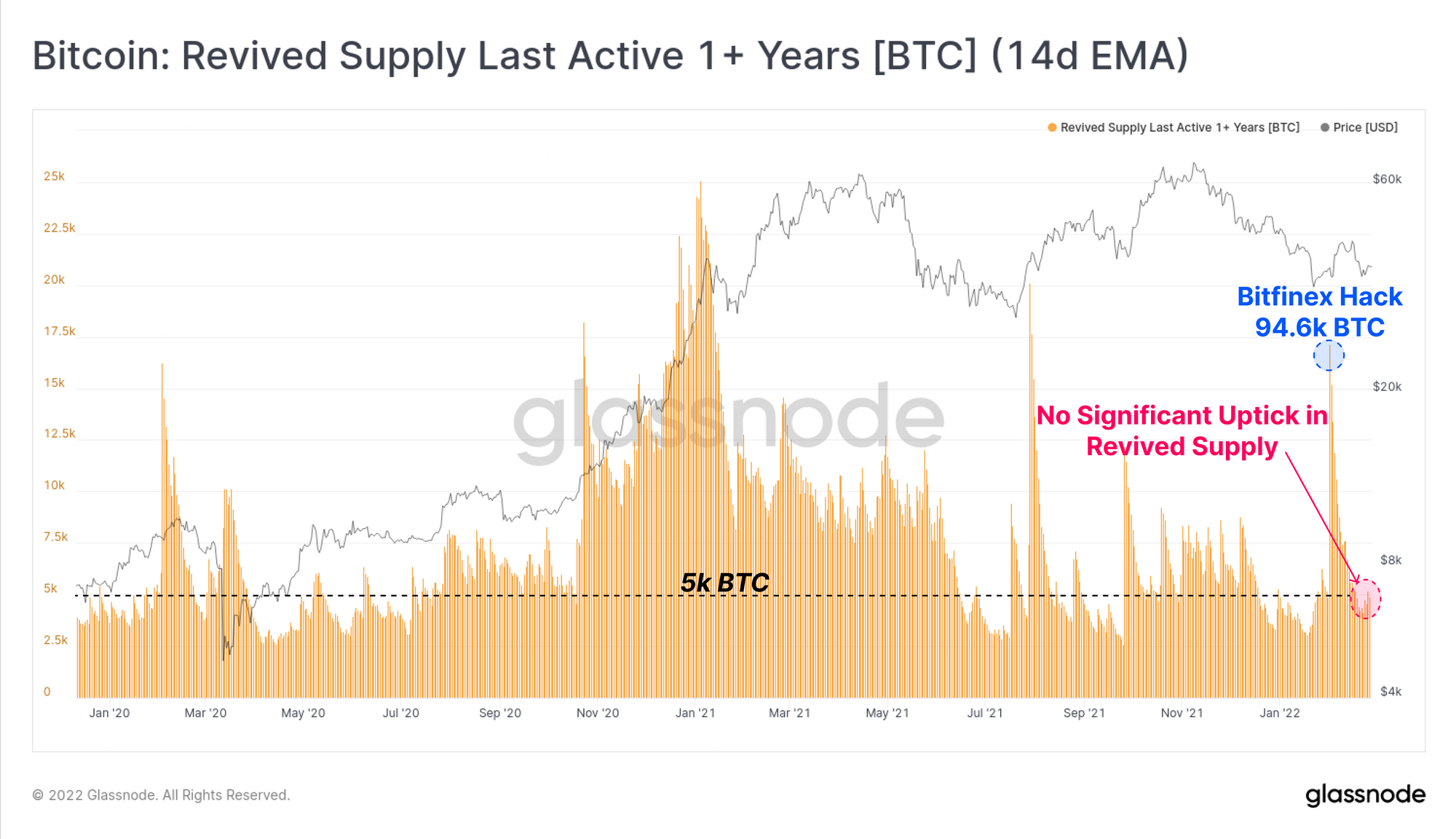 Looks like the indicator's value hasn't shown any significant upticks recently | Source: Glassnode's The Week Onchain - Week 9, 2022
As you can see in the above graph, the value of the metric has remained at pretty normal values over the past week. This is despite a world-changing event such as the Russian invasion of Ukraine breaking out.
Related Reading | Interview With Aarika Rhodes On Bitcoin, Universal Basic Income (UBI), And Removing Dinosaurs From Washington
This means that there is still some strong conviction among the BTC long-term holders about the outcome of the crypto's price.
Incidentally, there was a very large spike in the indicator just a few weeks back. However, it wasn't because of long-term holders selling off their coins, but due to a movement of the coins involved in the 2016 Bitfinex hack.
The hackers who were involved in the hack decided to shift the Bitcoin all these years later, and just a week or so following the movement, they were found by the police and subsequently arrested.
BTC Price
At the time of writing, Bitcoin's price floats around $44.6k, up 19% in the last seven days. Over the past month, the crypto has gained 16% in value.
The below chart shows the trend in the price of BTC over the last five days.
BTC's price seems to have observed a sharp surge over the past couple of days | Source: BTCUSD on TradingView
Following the start of the Russian invasion of Ukraine, the price of Bitcoin crashed all the way down to $34k as investors looked to derisk amid all the uncertainty.
However, in the past couple of days the value of the crypto has shown a very sharp uptrend, and the coin is now once again above the $44k level, looking to approach another retest of the $45k price point soon.
Featured image from Unsplash.com, charts from TradingView.com, Glassnode.com
Source link